BonsAPPs second open call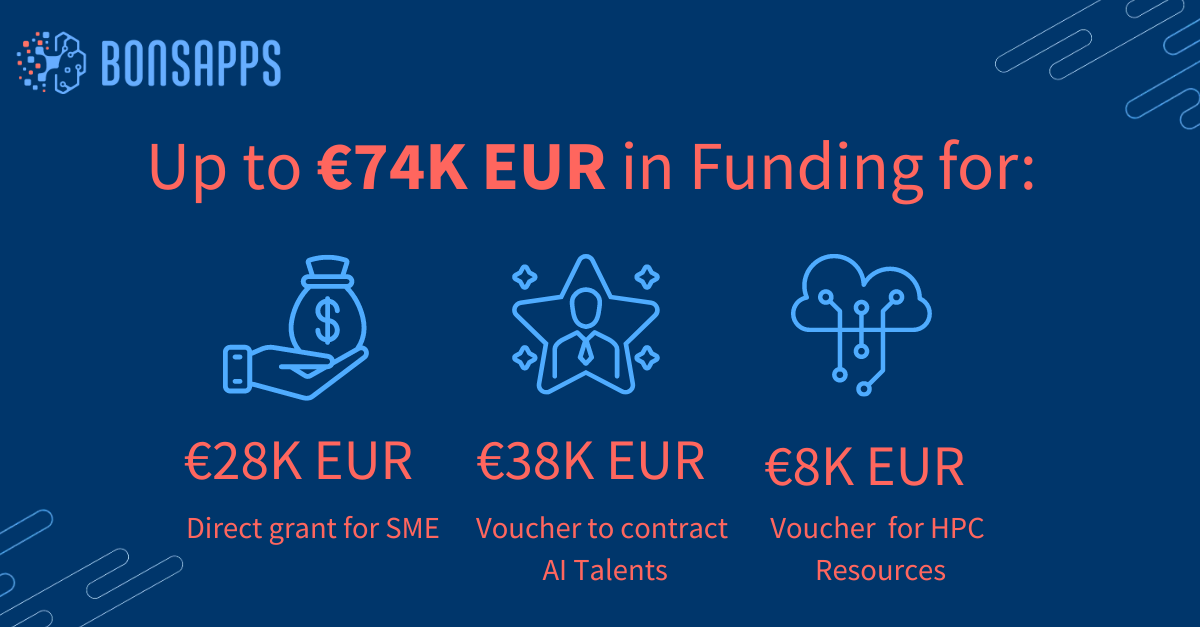 BonsAPPs 2nd Open Call for Adopters (August 15th – November 2nd)
We are looking for Adopter SMEs to improve their products, services, or value chains with AI
BonsAPPs is an EU-funded H2020 project that will help SMEs in their digitalization process by allowing them to access, implement and make use of Artificial Intelligence easily and affordably through the modular services that will be available through Bonseyes AI Marketplace.
Over the duration of the project, BonsAPPs will launch 2 Open Calls (OC) for AI Talents and low tech SMEs that will lead to the development of 20 re-usable AI Solutions implemented to Bonseyes AI Marketplace.
Who?
10 ADOPTERS – companies with SME status that lack AI development capacities
To do what?
Define high-potential business Use Cases for implementation of Artificial Intelligence in their processes, products and/or business models.
With the support of BonsAPPs: produce pre-trained models and identify and/or prepare the Training, Evaluation and Sample data that will be available for AI Talents to work with.
With funding received: contract and follow up on AI Talents and HPC providers that will lead to development, integration and deployment of an AI Solution for Adopter needs using tools and services of the BMP.
With what resources?
Each selected Adopter will receive up to 74.000 EUR funding divided in:
Up to 28k EUR direct grant to cover expenses of Adopter´s participation in the support programme
Up to 38k EUR voucher to contract AI Talents that will develop, integrate and deploy an AI Solution for Adopter needs using tools and services of the BMP.
Up to 8k EUR voucher for High-Performance Computing (HPC) resources for AI model optimization/training/benchmarking needed to design AI Solutions.